Our Ethos & Values
Our Vision Principles
Our Vision for all children at Ringland Primary school is;
To empower all our children with a compassion and respect for themselves, each other and for the world around them.
To evoke a curiosity of enquiry into endless creative, possibilities and problem - solving.
To instill a strength of courage and ambition that all our children are capable to achieve to their greatest potential, especially when they put their hearts and minds to it and never give up.
Our Mission Statement
During 2019 we collaborated with our pupil voice groups, parents and Governors to re-design a school logo to depict all that Ringland Primary School stands for in addition to this we refreshed our school's mission statement to encapsulate our daily values and aspirations.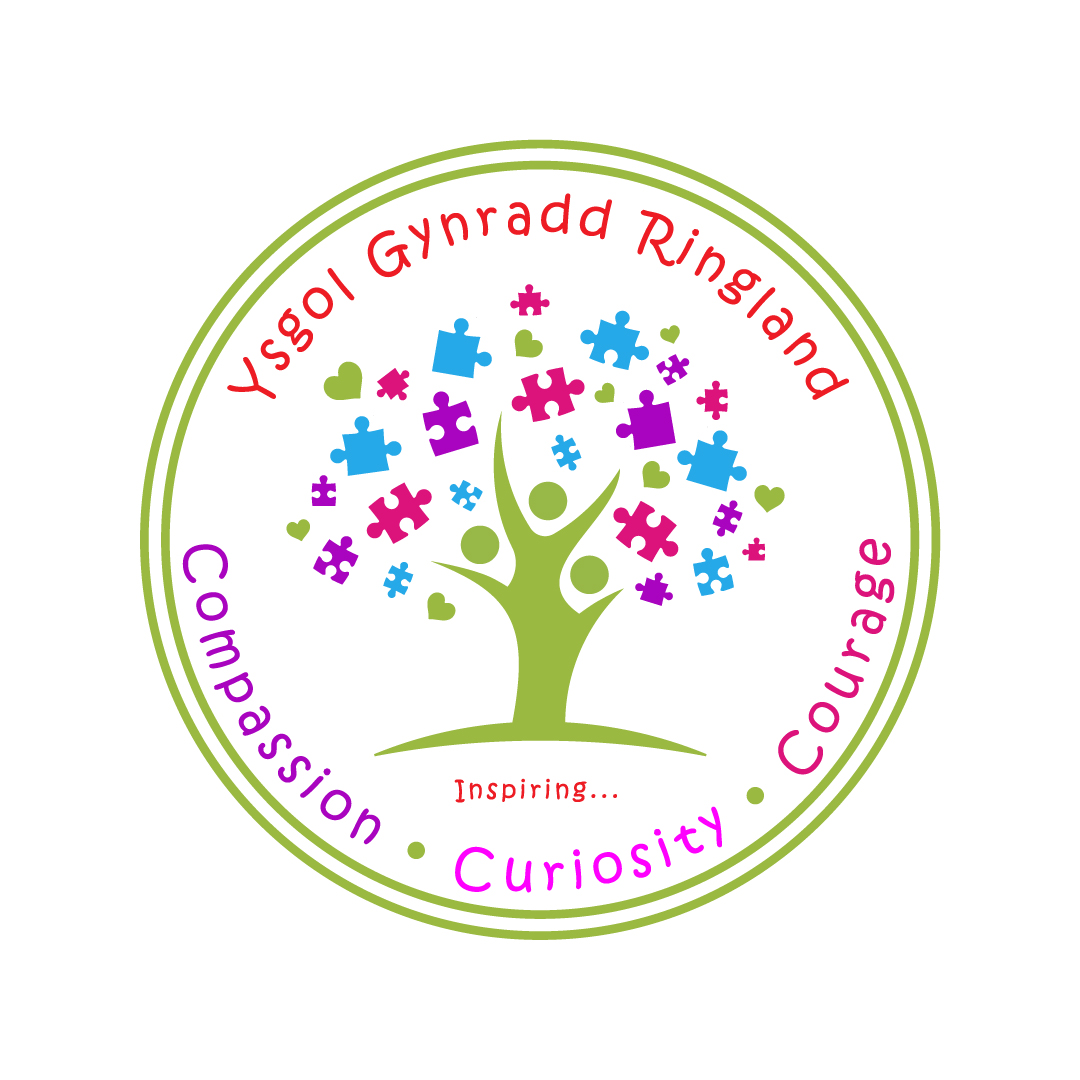 Ringland Primary School … Inspiring Compassion, Curiosity and Courage.
Our Aims
Our aim here at Ringland Primary School is to ensure all our children and their families are safe and happy with an understanding that as a school community we are committed to building good relationships based on mutual respect and trust. In doing so we can work together to secure the very best of opportunities for everyone.
We will…
Share our high expectations to enable all our children to raise their aspirations and ambitions to succeed in everything they choose.
Ignite interests and stimulate passions, developing our children's confidence in themselves as enterprising, creative contributors, in expanding their horizons within and beyond the classroom.
Build partnerships within our community and beyond to develop ethically informed citizens who make the right choices and are ready to be citizens of Wales and the ever changing world.
Develop healthy, confident individuals who are active, resilient and empathetic and are ready to lead happy, fulfilling lives as valued members of society.
Our Core Values and Nurturing Principles
As both a Nurture and Rights Respecting School we have collectively planned our values and nurturing principles to become embedded within our core purpose.
Our Values
Honesty
Compassion
Respect
Curiosity
Life Long Learning
Courage
Our 6 Principles of Nurture
We are on a learning journey filled with curiosity
We feel safe in our classrooms
We are compassionate and nurture each other.
Our words are a way of expressing ourselves.
How we act shows how we feel
We need courage to help us with changes